Depois da fracassada Ringer na CW, Sarah Michelle Gellar volta para o Mundo das Séries na sua nova empreitada com The Crazy Ones. A CBS aposta em quatro comédias e dois dramas para sua nova grade.
As novas séries, começando pelas comédias:
Sinopse: Uma comédia de uma camera só (raridade na CBS) sobre quatro homens solteiros em um complexo, estrelando
Tony Shalhoub, Jerry O'Connell e Kal Penn.
Mom
Sinopse: Uma mulher recentemente sóbria retorna para sua vida de criar dois filhos quando sua mãe insensivel aparece para dar uma ajuda. Com Anna Farris, de Chuk Lore.
Sinopse: Uma comédia de
Greg Garcia (
Raising Hope
,
My Name Is Earl
), Will Arnett é um recém divorciado cujo os pais (Margo Martindale e Beau Bridges) também se divorciaram, fazendo com que sua mãe se mude para sua casa.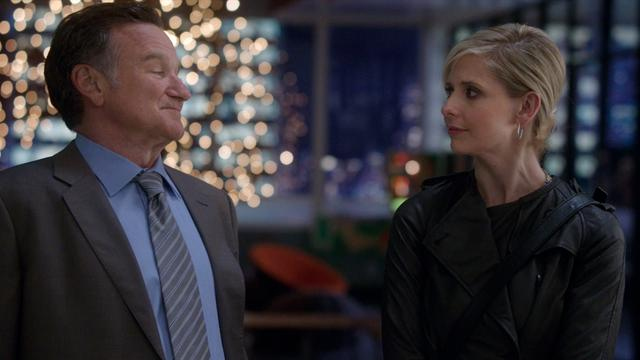 Sinopse: David E. Kelley (
Boston Legal
) criou essa comédia sobre um pai (Robin Willians) e sua rigida filha (Sarah Michelle Gellar) que trabalham em uma agência de publicidade.
Sinopse:
Uma família é tomada refém por um agente corrupto do FBI
(Dylan McDermott) e a esposa (Toni Collette), uma cirurgiã proeminente escolhida para operar o presidente dos Estados Unidos recebe a ordem de matá-lo para salvar sua família.
Intelligence (Mid-Season)
Sinopse:
Um agente das forças especiais (J
osh Holloway)tem um microchip implantado em sua cabeça que permite que ele acesse o spectrum eletromagnetico, que significa que ele pode acessar a internet, escutar ligações e muito mais, dentro de sua cabeça.
Abaixo o calendário completo da rede, em destaque as novatas.
Segunda
8pm:
How I Met Your Mother
8:30pm:
We Are Men
9pm:
2 Broke Girls
9:30pm:
Mom
10pm:
Hostages
/
Intelligence
(mid-season)
Terça
8pm:
NCIS
9pm:
NCIS: Los Angeles
10pm:
Person of Interest
Quarta
8pm:
Survivor
9pm:
Criminal Minds
10pm:
CSI
Quinta
8pm:
The Big Bang Theory
8:30pm:
The Millers
9pm:
The Crazy Ones
9:30pm:
Two and a Half Men
10pm:
Elementary
Sexta
8pm:
Undercover Boss
9pm:
Hawaii Five-0
10pm:
Blue Bloods
Domingo
8pm:
The Amazing Race
9pm:
The Good Wife
10pm:
The Mentalist
Obs. Nem todas as séries tem data oficial para retorno, que deve ocorrer por volta do segundo semestre de setembro, inicio de outubro.